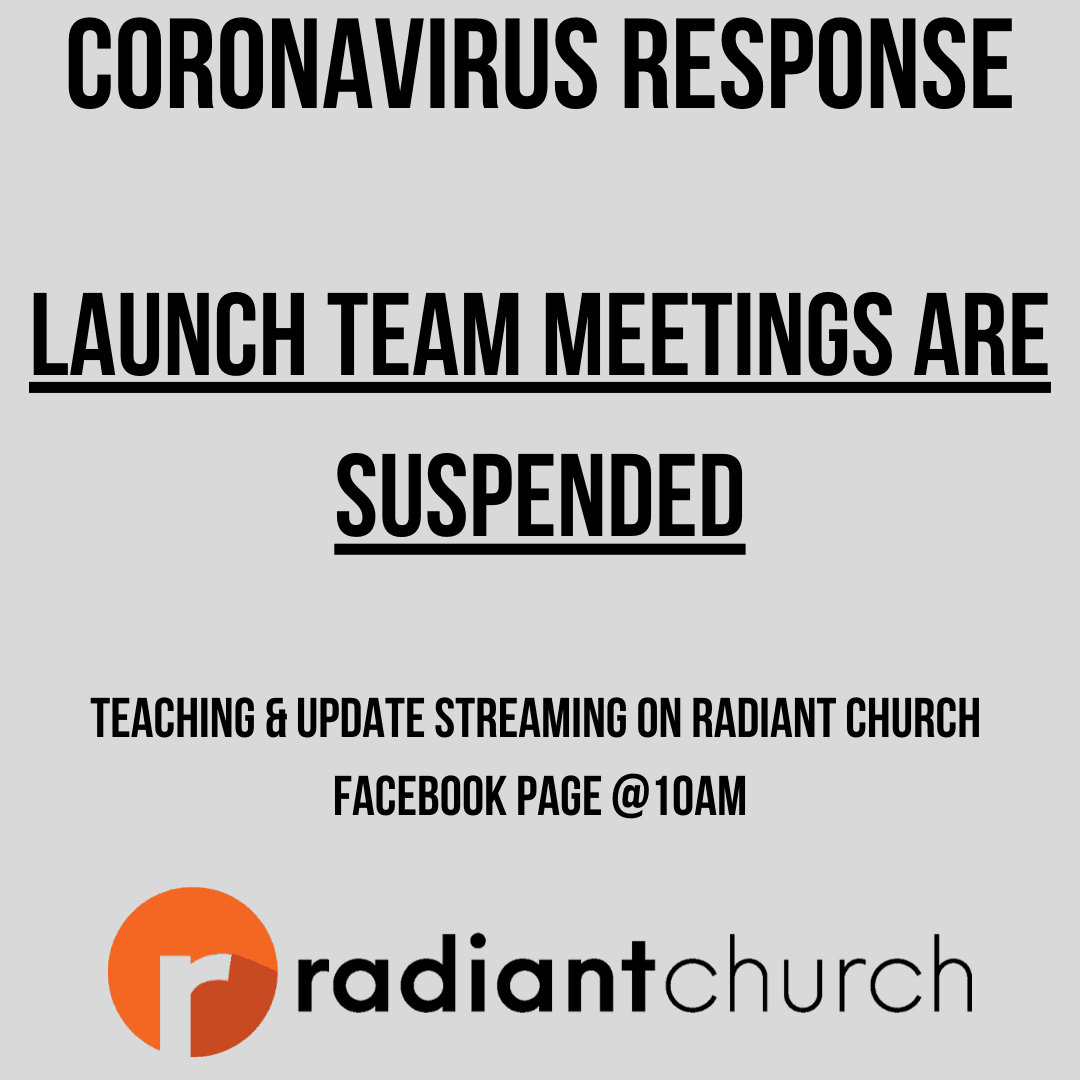 Why Suspend Launch Meetings?
We are in the midst of global change unlike anything we have seen before. The temptation for many is to gravitate to one of two positions: either everyone is overreacting or not doing enough. At Radiant, we want to encourage you to take neither position, but instead be prepared and be cautious.
Our aim was to be compliant with State and County officials. However, the President and Centers for Disease Control (CDC) made it clear on Monday that public gatherings should be limited to ten people or less and all non-essential travel should be suspended for a period of fifteen days. We will comply with the President's request and do our part to help limit possible spread of the coronavirus.
At this time we will plan to hold launch team meetings again on Sunday, April 5th. Small group training, previously scheduled for this Sunday (March 22nd) will be rescheduled at a later date.
We will do our best to keep you informed of any changes. We will also post a variety of resources to our social accounts throughout the next two weeks.
Pastor Andrew will do a live-stream teaching through the Radiant Church Facebook page at our normal launch team meeting time (Sundays at 10AM).
If you haven't done the following already, please:
Like & follow our social accounts on Facebook & Instagram
Bookmark our website or save it as an icon on your phone (step by step instructions are here)
Create an online giving account so you can continue giving to Radiant Church
In every crisis moment, the Church has an opportunity to be the hands and feet of Jesus. We want to encourage you to find ways you can be light in the midst of a dark time.
# 1 - Check on Your Neighbors & Family
If you have elderly or immune-compromised neighbors and family, check on them. Immune-compromised persons are those with a history of cancer, diabetes, auto-immune diseases, etc. Please, don't visit them. It's possible to carry coronavirus and infect someone even while feeling healthy. The disease can be asymptomatic for up to two weeks. Instead, call or text to see how they are doing and offer encouragement.
#2 - Run Errands for Others
If those elderly neighbors or family members need groceries, medications, or other items, offer to pick them up. Have them call ahead to their pharmacy so they can get approval for you to pick up their medications. The longer they can remain in their homes with little contact in the community, the higher their chances of not being infected.
#3 - Babysit for Parents
While many companies are allowing parents to work from home to limit infection and watch their children, not every parent can do so. If you have a neighbor or family member who is unable to watch their children, offer to keep them during the workday. Schools are closed for at least two weeks in South Carolina, and it's possible they could be closed for longer depending how the pandemic plays out. Take the opportunity to help that single mom or those parents who are unable to provide supervision for their children and do it for nothing in return.
#4 - Pray for God's Healing Power
The coronavirus pandemic is a real threat and a deadly threat. But, there is also a real God with real healing power who is in complete and total control. We don't always understand why God seems to allow certain events to occur, but we can be sure He has a deep love for us and has the power to heal.
Pray for those who are infected that God will heal them from this horrible disease! But, also pray God will heal broken hearts who have experienced loss from coronavirus. Many people will need healing physically, emotionally, and even spiritually during this time. Pray God provides this healing for them!
And Remember...
God is in complete control. There is a lot of uncertainty surrounding the coronavirus and the many different effects it will have on our lives. No one has all the answers, but we are sure Jesus is the one sufficient answer for each and every situation we will face. He is our healer. He is our Provider. He is our Comforter. He is our Peace. He is in control!